The Upcoming Trends You Need To Know For 2021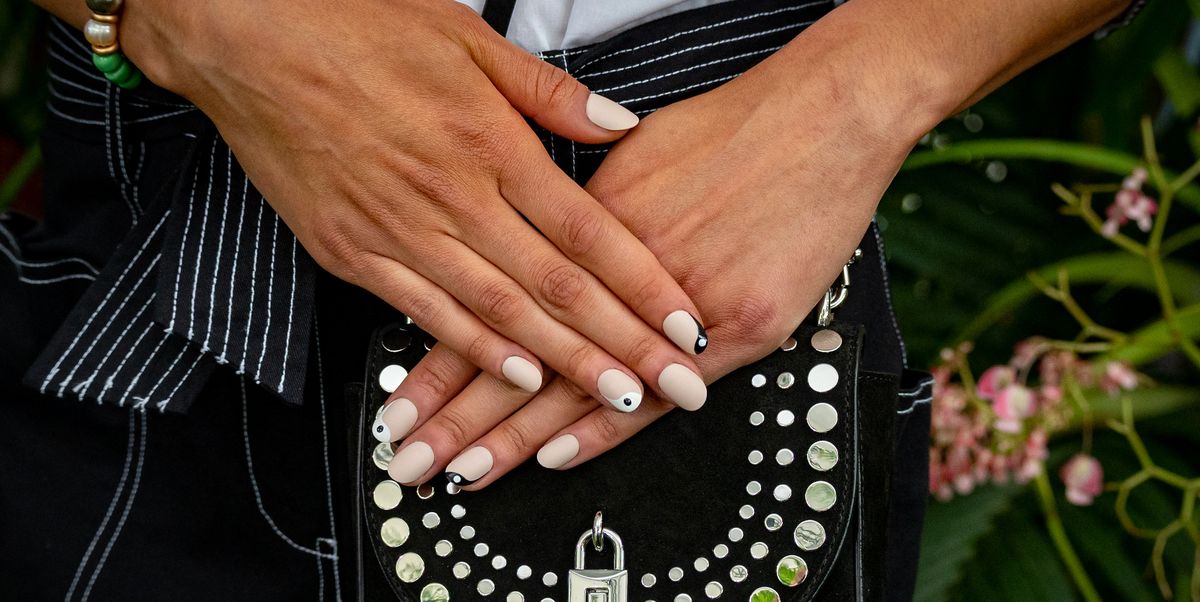 Last year has been huge for nail trends, with everything from reinventions of classic French manicures to the much-loved multi-tone design.
And when the nail salons closed for a while and our beloved SNS nails were off the menu, we embraced DIY manicures again, with 3D decals and nail stickers taking our traditional paintings to a whole new level. Not to mention light-enhancing finishes like vinyl and velvet, elevating our common colors.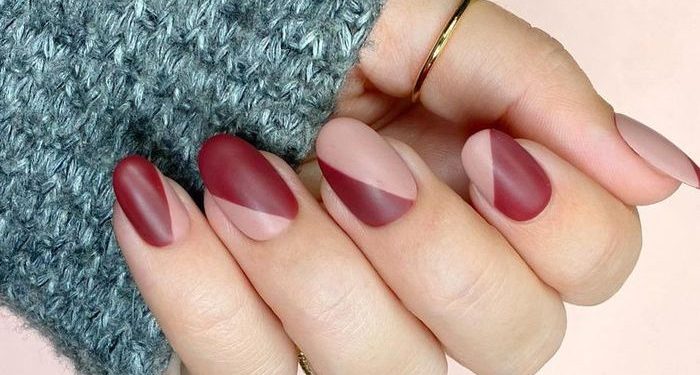 As we look to enter the new year, our love for intricate detail, our desire for travel and classic twists are front and center. But so is nail health, with many of us taking a break from acrylics and adopting cuticle oils and toxin-free formulas.
The top nail trends for 2021
Whether you're a color lover, prefer to keep your main minimalist or just worry about nail art, here's what the 2021 has in store for your nails…
French twist with a flipside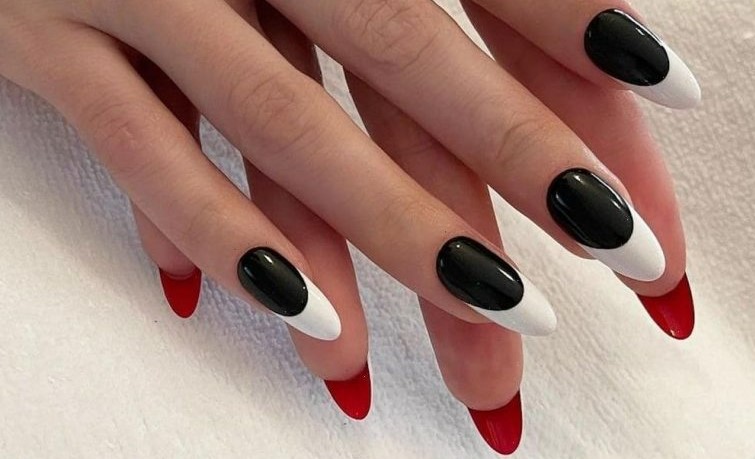 Superhuman/superstar Selena Gomez recently joined forces with Global Citizen in her role as ambassador to host the television show Vax Live: The Concert to Reunite the World. The ABC-broadcast event featured performances by Jennifer Lopez, J Balvin, H.E.R and Foo Fighters, but one point you may have missed is Gomez's immaculate manicure. Fortunately, Tom Bachik (aka the genius behind the star's nails) gave us a close-up of the look, which he aptly coined as the "French twist with a flipside" manicure. The nails retain the classic white tips synonymous with French style, but Bachik has mixed things up by opting for jet black nail polish for the rest of the nail, plus an ingenious red peek-a-boo moment at the bottom is giving us serious Louboutin vibes . Bachik was kind enough to share the exact tones he used on Gomez so you can easily recreate this one at home – BRB picking up a few bottles of OPI's Big Apple Red, Alpine Snow, and Black Onyx.
Yin Yang Nails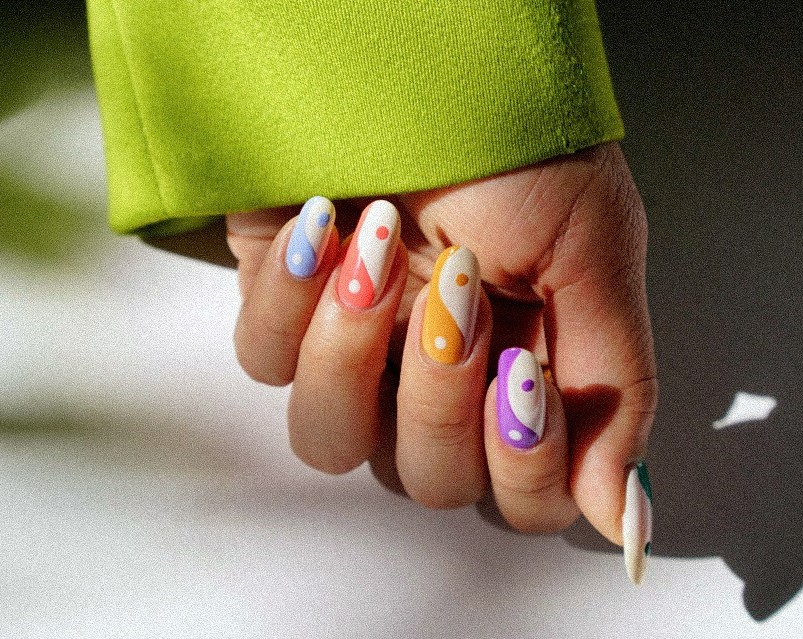 If you're looking for a little more balance in your life or are just a fanatic for some cute nail art, then you're going to love the yin yang nail trend. Drawing inspiration from the ancient Chinese philosophy known as Taoism, the symbol speaks about the balance of divine feminine and masculine energies that occur in all things in nature – including ourselves. It also looks great in a multitude of colors and with a variety of different outfits. How conveniently considerate…
Freehand French swirls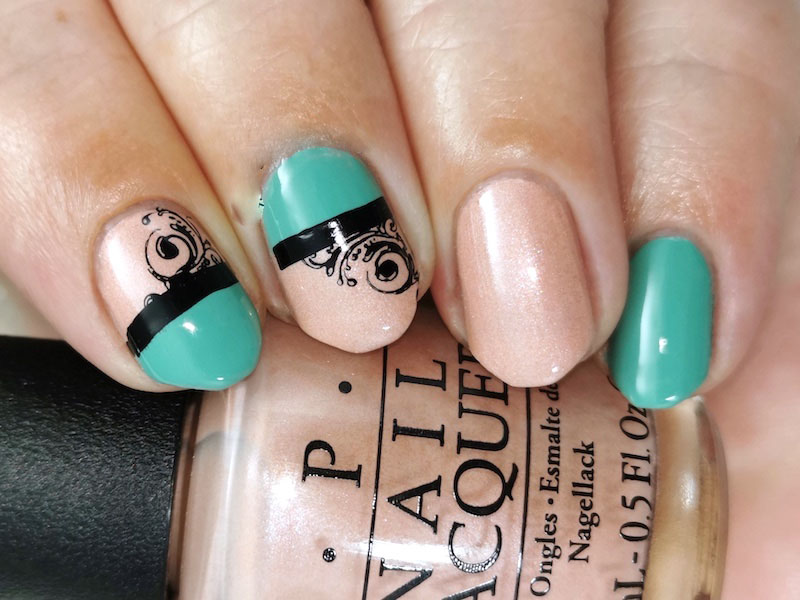 When we thought that even "fresh" versions of the French mani were getting obsolete, Kylie Jenner reinvented the category once again. Her opinion, however, is anything but "classic". Featuring freehand, multicolored spiral patterns on the tips and sides of each of her coffin-shaped acrylic nails (designed by nail guru @chaunlegend, FYI), the look wraps around every shadow in the sun while leaving negative space enough to guarantee it looks chic, not childish.
Velvet nails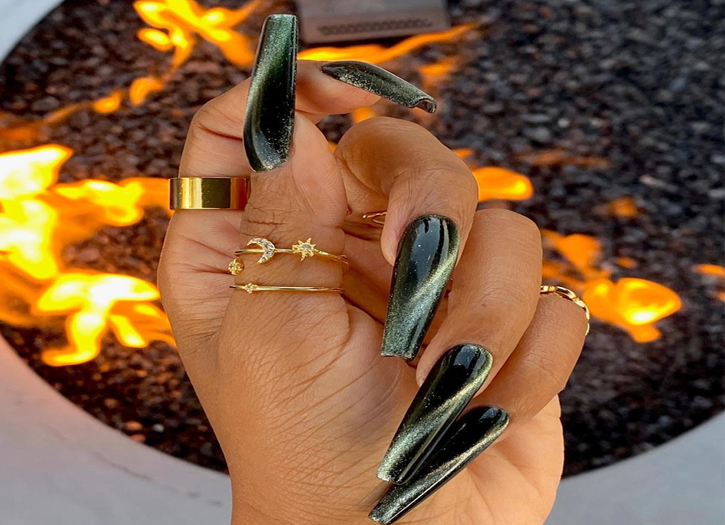 For texture lovers, let's introduce the light-reflecting trend their claws were made for: velvet nails. Created by Los Angeles-based nail artist Amy Le, the trend can be recreated in any color, but we all want a festive gold or classic burgundy in December. Anyone with a phobia of furry things doesn't have to worry either, it's all about the finish and the trick of light to achieve a velvety look.
Negative space florals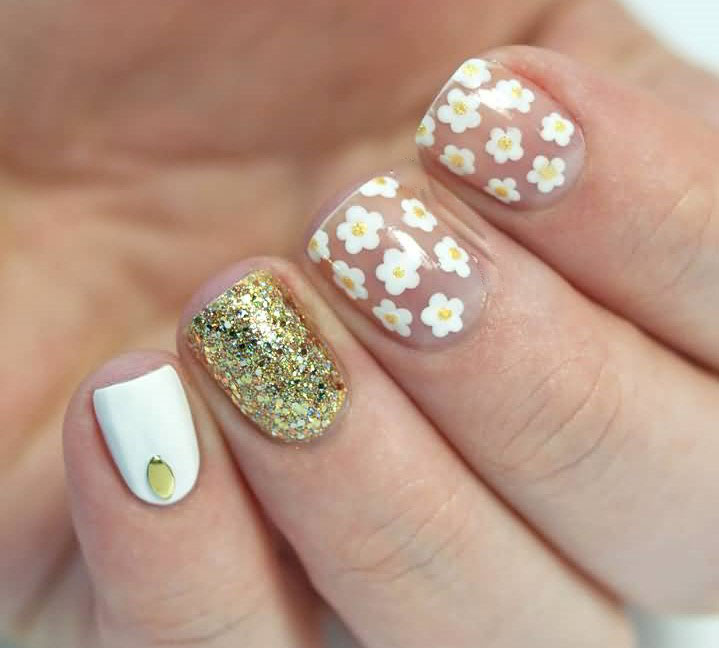 Much like this daisy nail design (as seen in Hailey Bieber), negative space nails are still very much in fashion. However, rather than providing a canvas for lines and shapes, expect to see more floral-inspired prints on bare bases.
The 'naked' manicure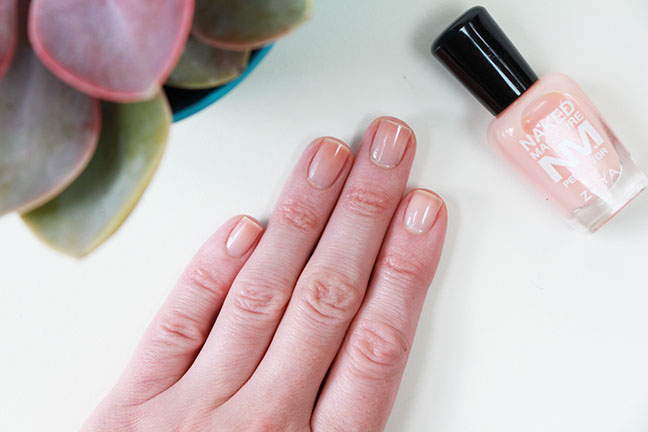 Just like bare nails, only better, clear colors and clear coatings are coming back. Think of the French manicure, but with minimal colors and finer details.
Metallics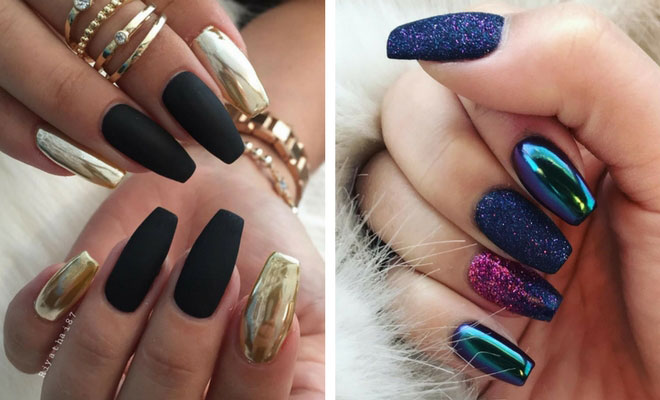 Reflective chrome nails may have sparkled in the sun, but they are sibling metallics that are becoming a favorite finish. Silver is a classic choice, but teal and emeralds will look wonderful in winter too.
Mask-matching Manis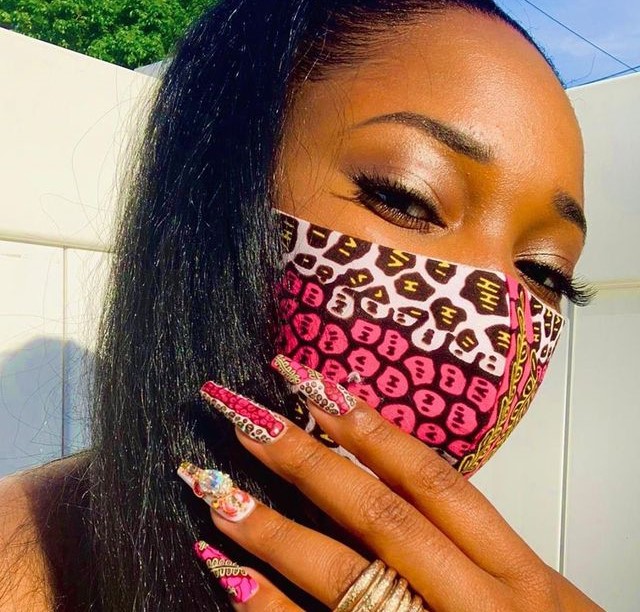 It all started with eye makeup, and now, we're matching our masks with our manicures. This is the level of organization we would like to see in 2021.
Marshmallow stripes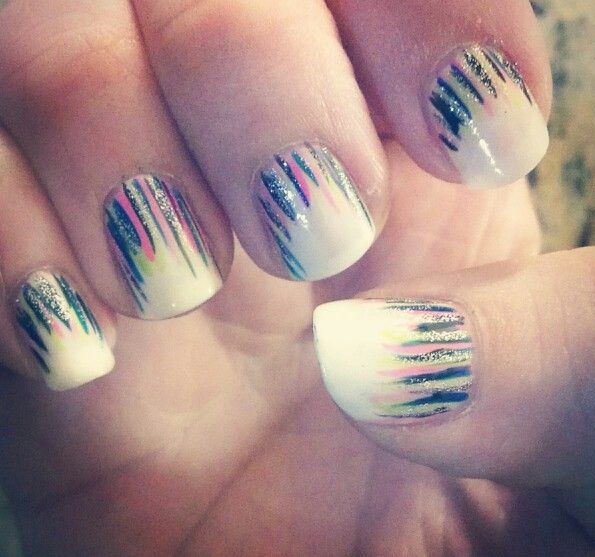 Candy coated nails are always fluffy. Combine a wavy rainbow pattern with a matte top coat and you have what nail artist Michelle Humphrey calls it: marshmallow stripes.
Checkerboard Nails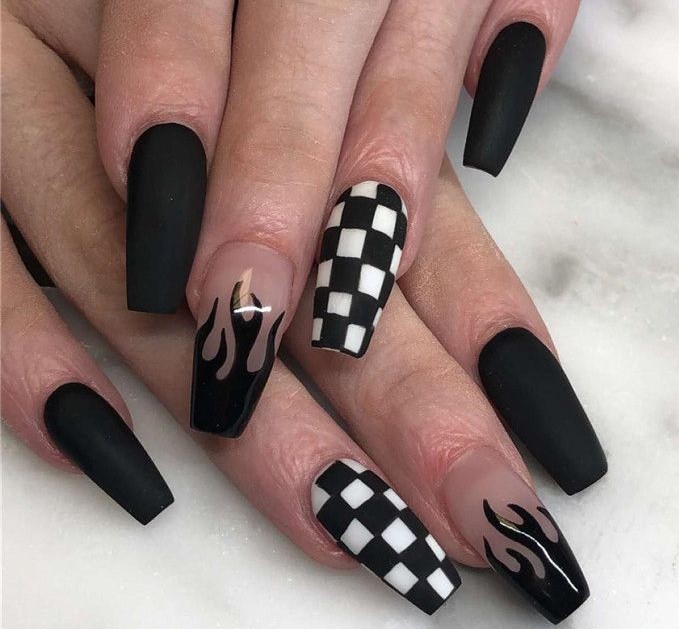 Do you consider yourself a sucker for a classic pair of checkered Vans? This trend is based on the structured shoe print for a rainbow geometric vibe that will spice up any look. Immerse your toe in the trend with a French-edge version of the bold style like Kylie Jenner (pictured), or spruce up your claws with full print for a maddening impact.
Seashell nails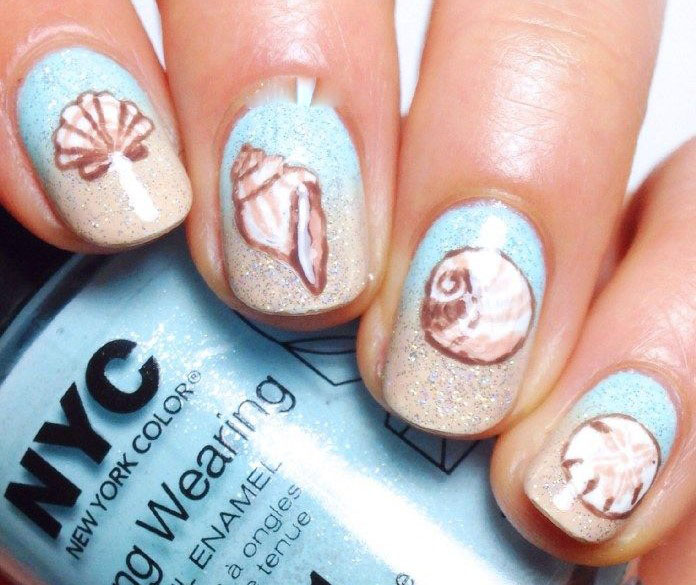 If you can't go to the beach right now, you better live your Ariel fantasy with a seashell-inspired manicure. This project by Bana Manicure, from Los Angeles, was crazy on the "grass" and she kindly shared all the instructions on the shell.