This is the most commented facial brush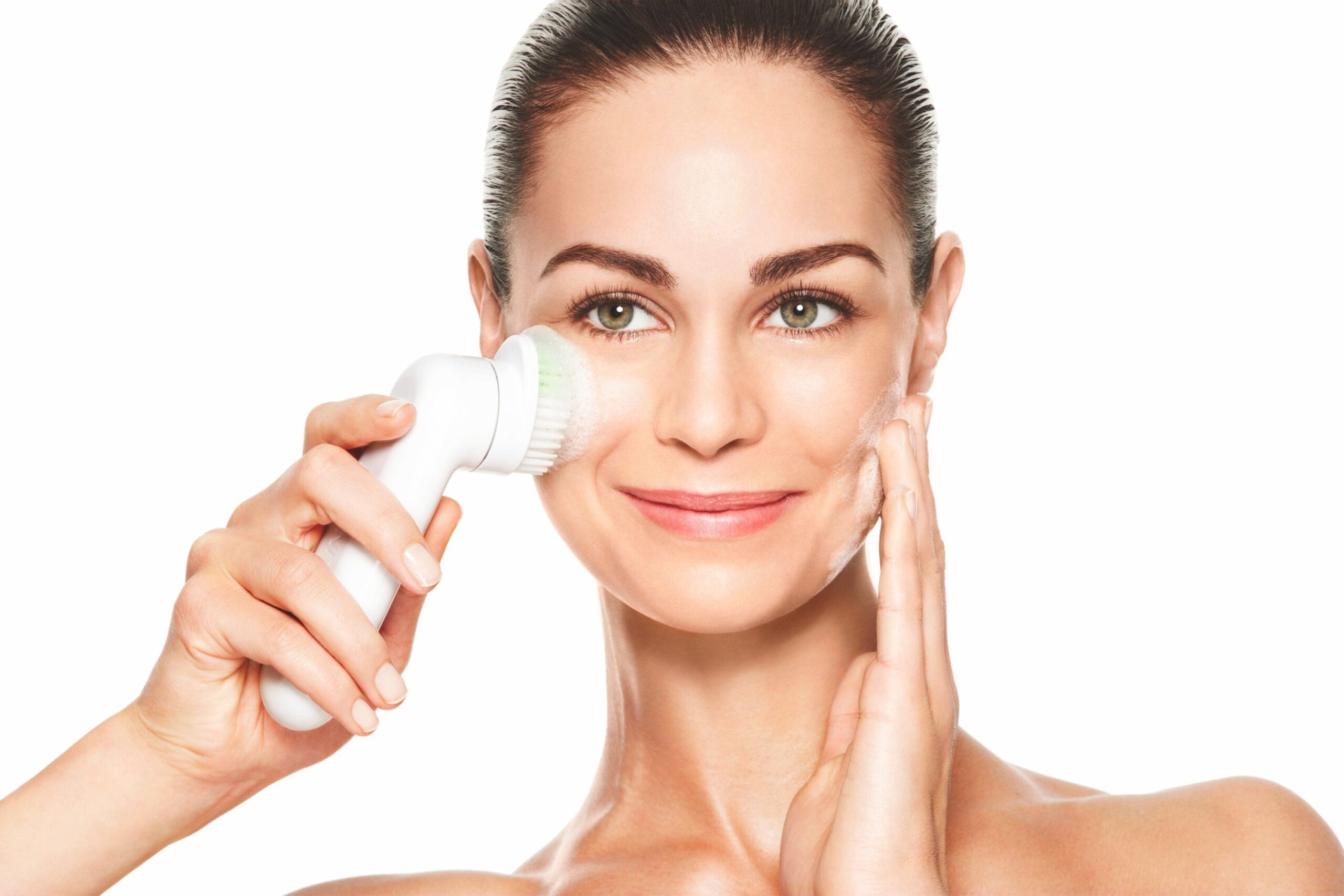 From time to time a product arrives that assaults the world of beauty. You hear a lot about it everywhere and the excitement continues to increase with every post you read or every video you watch! In short, you are looking forward to your salary appearing so you can finally buy that item of magical beauty that everyone has been talking about.
Recently we had the opportunity to do just that. The product in question? A facial brush! But you don't mind any facial brush. This is a unique facial brush (at least according to our experience). The kind that even beauty experts can't get enough! They have been constantly delirious about it and with good reason!
The product we are talking about is the Glowspin Premium Facial Cleaning System! Fun fact: did you know that the company that manufactures these facial brushes, Vanity Planet, has more than 25,000 influential people worldwide? That means that a considerable part of the most famous beauty experts trust their products and heartily recommend them to all their followers. The Glowspin Premium Facial Cleaning System is one of those products!
Glowspin Premium Facial Cleansing System
First, let us inform you about the packaging. The product is available in 3 beautiful colors: a baby pink, a sky blue and a light purple. We have pink because we are that feminine! Anyway, the brush comes in a hard plastic case of similar color, which acts as a super convenient travel case when you're away from home on one of those much needed vacations.
Now that it arrives at the product, it is a bit chubby with a contoured body that makes it extremely easy to grip in the hand. However, it is not quite heavy. It works with 2 AA batteries and, in our opinion, that's great! We don't like cable cleaners very much, since they don't give you that much freedom to move. The box contains 3 different types of attachments and each one has very soft bristles. Another thing worth mentioning here is that it has two speed settings to choose from, which really is an additional advantage!
If we talk about our experience with the Glowspin Premium facial cleansing system, the short version would be: we love it! But that is not what you are here for. So, let's see how it works and if the facial cleanser does what it is supposed to do.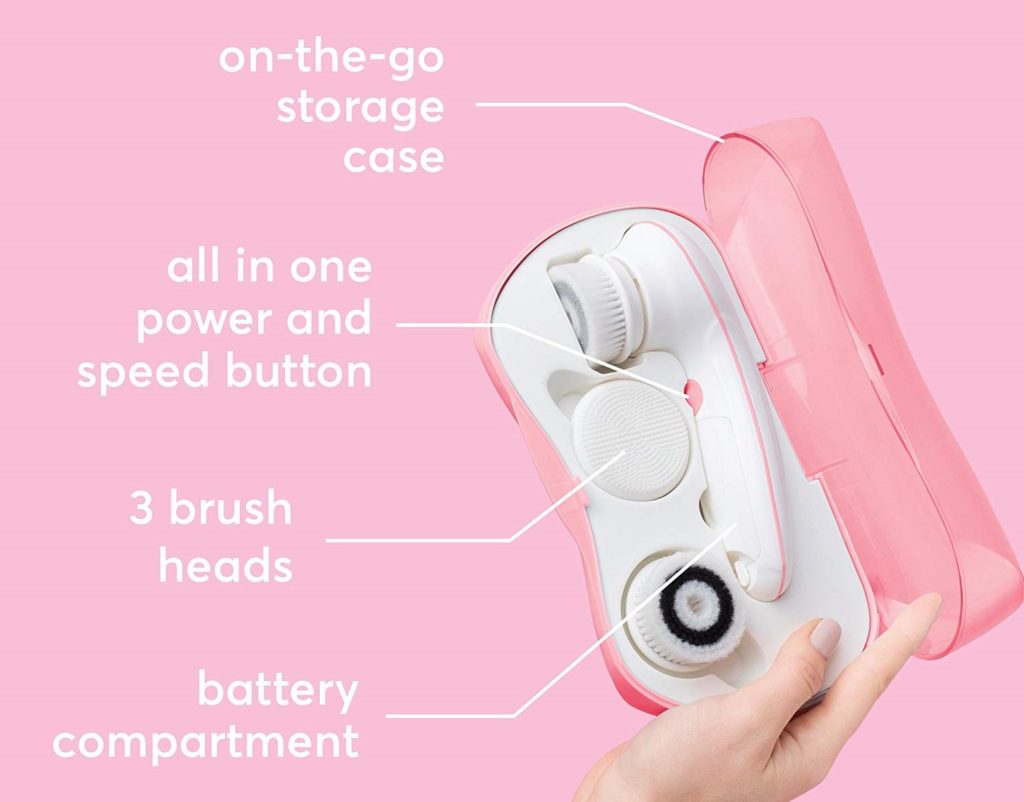 The role of a facial cleanser is to deeply cleanse your skin and remove all dirt and impurities in a gentle but effective way. This is what the Glowspin facial cleanser is extremely good! When it is brought to the face and massaged, the bristles rotate clockwise. This action really helps not only to remove dirt or sweat, but even to makeup!
The exfoliation becomes super easy and extremely soft with this brush. Even in the slow speed setting, the cleanser does an amazing job on dead skin cells. In fact, we can safely say that it is better than any other facial cleanser that we have used and that we have used many.
The speed setting is very useful and the high speed setting is strong but not hard or harmful in any way. However, what we like most is the inclusion of 3 different types of brush heads in the box. One is intended for daily cleaning, one for exfoliating and the other is a silicone brush. The silicone brush is very easy to clean and therefore perfect for use with a cleaner. In addition, the fact that it includes 3 brush heads means that you can fully customize your skin care according to your needs.
We use the Glowspin Premium Facial Cleaning System for a week and within that week, we notice visibly brighter, clean and fresh skin without red spots or allergies. Honestly, this is all we want from a facial brush and this does the job in a more than satisfactory way.
The Glowspin Premium facial cleansing system is a two-speed rotating brush that cleanses and exfoliates the skin to achieve a natural shine. This easy-to-use portable brush has three pluggable brush heads that serve for daily cleaning, exfoliation and skin care. In fact, we are not really surprised that Vanity Planet has received much love for its Glowspin Premium Facial Cleaning System from renowned international beauty experts such as Ace Family, Nikkie Tutorials, Lily Ghalichi or Jessi Malay. If you want to see for yourself the wonders of this product, buy yourself a Christmas gift here at Vanity Planet.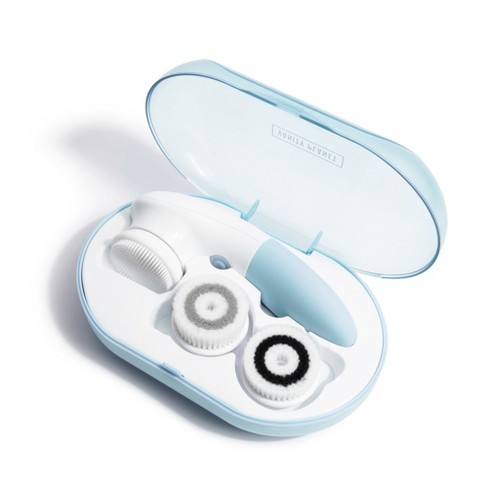 In addition, the fact that this brush has obtained more than 150,000 4.5-star reviews or 1.2 million units have been sold does not surprise us either! Nor is it that Vanity Planet has been named as one of the best skin care brands by Tribal Dynamics, sharing the place with great weights from the beauty industry such as Neutrogena and Kiehl's. If they make products like the Glowspin Premium Facial Cleansing System, they will surely be praised!